Poppleton Scarecrow Trail
Poppleton Scarecrow Trail 16th/17th September 2017
10am-4pm
For the second year in a row, we are delighted to join in with our community scarecrow trail and have built our own!
After the first every Poppleton Scarecrow Trail last year, which was a fantastic success, we are proud to say we have another one in this years trail. Sat outside our practice on our new birthday bench is our scarecrow the ToothFairy! She is taking a break from the hectic lifestyle of a toothfairy and watching the world of Poppleton for a little while this weekend.
We definitely think she is better than our Scarecrow of Rebecca last year but maybe not as funny!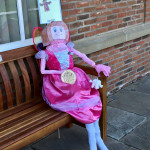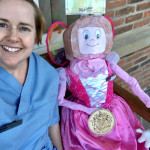 For full details of the trail pop into Poppleton Centre, Main Street, Poppleton (located behind the tennis courts) and pick up a map and a list of questions, so you don't miss any of the fabulous creations found around the village this weekend. There is also Cafe Refresh open, Bouncy Castle, Arts, Raffle, Tombola and Ice Cream! Perfect day out for the family.