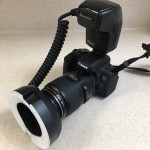 New Digital Camera for Dental Photography
As part of the improvements in our practice of dentistry we have now got a great new digital camera for taking images of our patient's teeth. This is a fantastic (although heavy) piece of kit which includes a macro lens and ring flash. It can take accurate and incredibly detailed images of teeth, mouths and faces. This adds great amounts of detail to patient's clinical records, is a brilliant help with educating our patients, and can be incredibly useful when referring to specialists.
Rebecca has had some great training from Mike Sharland on a recent Denplan course, but please be patient with us as we are still learning about everything this camera can do. You may notice we are asking patients for written permission now to take images for your records and we now have consent forms for dental photography.